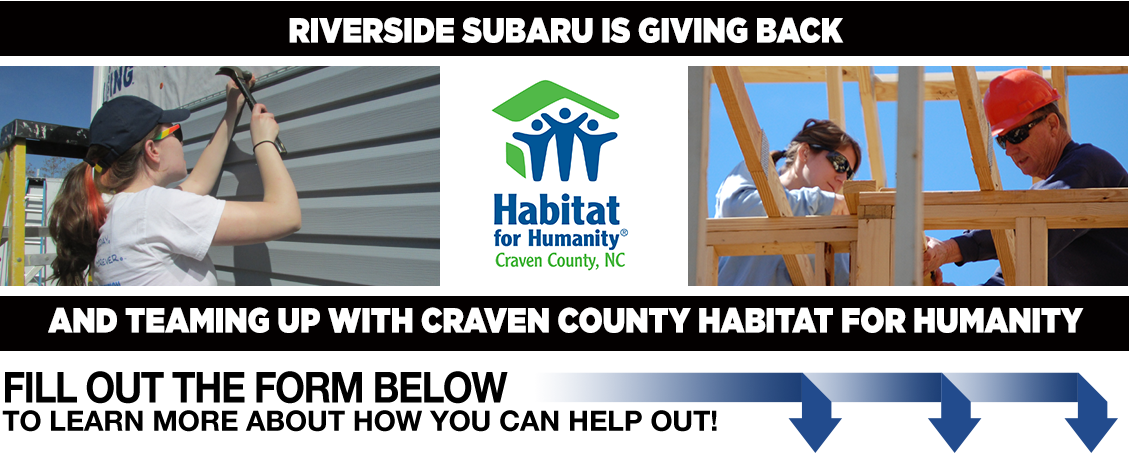 Riverside Subaru has always believed in giving back to the community. During the month of December, we are teaming up with Craven County Habitat for Humanity to support them and their efforts. Habitat for Humanity is one of the charity options for our National Sharing is Caring Event, and we are also helping them with a fundraising event on December 17, 2016.
Home for the Holidays Fundraiser
On December 17, the Craven County Habitat for Humanity is having a fundraiser and Riverside Subaru is helping them out. Habitat for Humanity Craven County has been around since 1989. They have completed 61 local homes which have housed 120 children, and they have built 41 homes internationally. Riverside Subaru is hosting the Sign a Stud tradition as a part of the fundraiser. People from the community can come and sign a stud with a blessing or prayer for the family that will live in the next house. This event will also have a bluegrass band, painter, artist, and hotdogs. It is a great event for a great cause so be sure to stop by on December 17 and help us help Habitat for Humanity.
Sharing is Caring Event
This month at Riverside Subaru, we are taking part in the National Sharing is Caring Event. If you buy a car from us in December, you can pick which charity we donate to. We have four National choices that include, Meals on Wheels, Make A Wish, National Parks, ASPCA and our local charity option is Craven County Habitat for Humanity. If you decide to support to Habitat for Humanity, they will receive $250 to their next build from us. 
Make an Inquiry
* Indicates a required field